About Us
We are a fully licensed and insured, locally owned business with years of experience and expertise offering custom made safaris and Kilimanjaro climbs to fit your time, interests and budget. Not only is it more cost effective for you to book with an on the ground operator you are also supporting the local economy and business owners. Unlike many operators, we can ensure you will be fully looked after by Trek2Kili employees as we never outsource our clients to other companies.
We are fully committed to responsible tourism and community development are proud to be one of the few companies offering 100% certified ethical Kilimanjaro climbs ensuring the fair and proper treatment of the hardworking mountain crew. We are a Kilimanjaro Porters Assistant Project (KPAP) certified Company since 2008.
Trek2Kili welcomes you to explore the unparalleled natural beauty of East Africa. You'll native traditional tribes, hidden waterfalls, dazzling white sands, volcanic craters, and ice-capped mountain peaks all within hours of each other.
We are able to offer customized unique safari, trekking and beach paradise experiences specifically matched to your interests, time and budget. Our experienced team and crew are dedicated to planning the perfect Tanzania adventure for you. We warmly invite you to explore our beautiful country with us. Karibu Tanzania!
A TEAM COMMITTED TO THE INDUSTRY
Meet Msuya "Founder"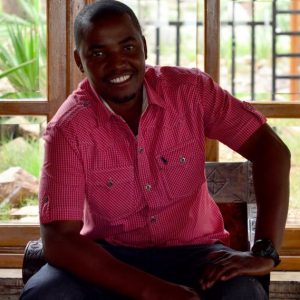 He invites you to discover the natural beauty of our country for the experience of a lifetime. From the vast plains of the Serengeti experiencing the Great Migration or cheering you to the Rooftop of Africa, the team at Trek2Kili welcomes you.
"Before graduating from The Royal Institute of Moshi and owning my own business, I too was once a porter. I believe success comes through hard work, excellent customer relations and honest business practices. I look forward to helping make your Tanzania holiday dreams come true."
Karibu Tanzania!
Meet Nehemia Msabila "Office manager"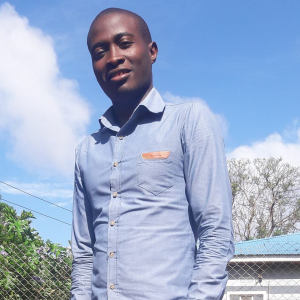 Trek2Kili is an active company and we have many treks and safaris for our international guests. We are so grateful to have Nehemia on our staff, he assists with all aspects of operations, crew assignment, accounting, dispatching our tours and more. Nehemia finds time to assist us when he is not at home with his lovely wife Marygetruda and two young children, one girl and one boy. Nehemia started his connection with Trek2Kili as a porter 3 years ago and then shifted to help in the office and has grown into a very important part of our office team. He grew up in the Tabora Region of Tanzania and went on to study economics which prepared him well for his position which includes accounting and budgeting. You may see him around the hotel helping to distribute rented kit, or at the park gates, helping with many different tasks!
Andrew Mafie "Chief guide"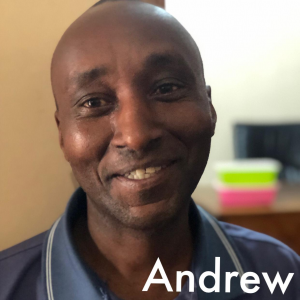 Meet our guide, Andrew! We are proud to have Andrew on our team. He has 10 years' experience and we value him for what he brings to our crew. Andrew is the proud dad of 4 children, two daughters, and twin boys. They are willing to share their time with their baba to be with our hikers from all around the world. Andrew specializes in all safety aspects of climbing Kilimanjaro and is very careful when escorting our guests, making sure they are not only having a great time in nature but also that it is in a safe way. Andrew stays active with reading, jogging, adventure, and enjoying the beauty of nature. Andrew is from Arumeru in the Arusha region. You are lucky to have Andrew on your team leading you up Kilimanjaro along with another head guide and many assistant guides as well.
Paul Mosha "Chief guide"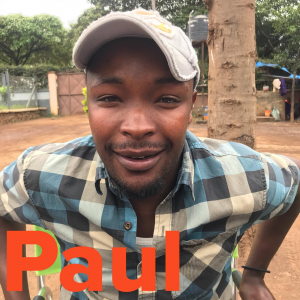 Our guide Paul is from the Moshi and Arusha regions of Tanzania. He has 3 years' guiding experience and many more before that as a porter. Paul is very happy to meet our clients from all around the world and sharing his knowledge with them. When he is not on the mountain, you can find him reading a lot of books and watching documentaries and movies. Paul is quite serious about safety and orderly standards on Kilimanjaro but also balances with having a really fun time. Paul is on your mountain team and is excited to meet you and lead your group up to the roof of Africa.
Rajabu Habibu Msofe 'Rojas' "Chief guide"
Roja is one of our esteemed chief guides. He has two beautiful daughters and they allow him to leave home sometimes to join our groups on Kilimanjaro. He has been guiding for 8 years and always brings a professional and also fun element to all of our expeditions. Roja enjoys sharing information and stories with his friends and you can sometimes find him at a local place playing pool table. Traveling is amongst his interests, as he enjoys learning about different places and expanding his life experience. Roja is leading your trek, ready to guide you up Kilimanjaro with another one of our chief guides and a team of assistant guides.
Nelson Goodluck Melleor "Chief guide"
The slopes of Kilimanjaro is home to Nelson. When he was growing up, he would see the visitors come through his village and his local family members and neighbors working as guides and he would say to himself 'I want to be a guide someday'. That someday came when the efforts he took on became a reality and he earned his place on the mountain. No trek with Nelson is without lots of fun and jokes, but he also is knowledgable and professional. Even when he is traveling and exploring the world, he is proud to call Kilimanjaro his home. Nelson is one of your chief guides and is ready to lead you up to the mountain!