12 Days Luxury Kilimanjaro Climb via Northern Circuit Route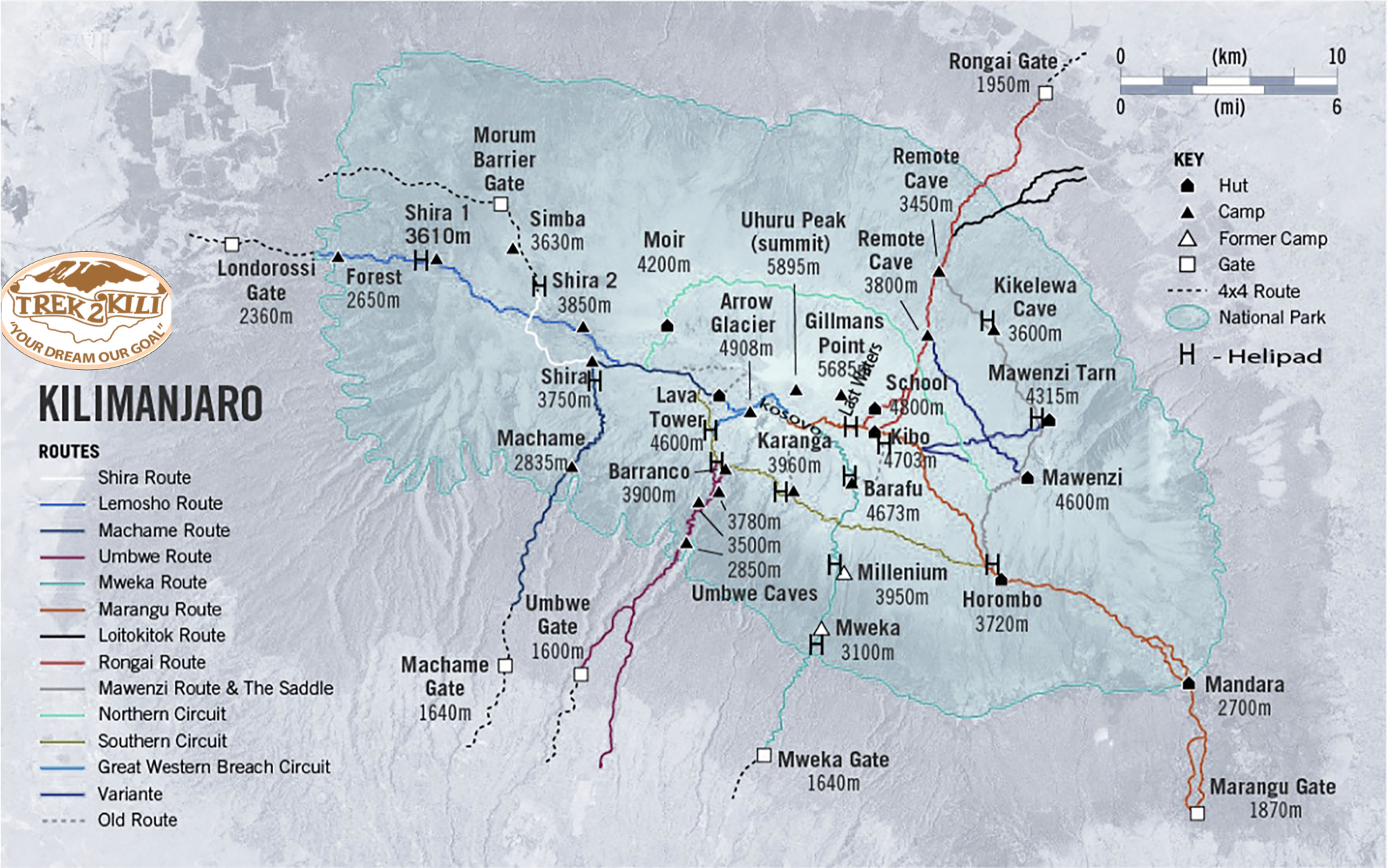 LUXURY KILIMANJARO CLIMB VIA NORTHERN CIRCUIT ROUTE
The Northern Circuit route is one of the best routes on Kilimanjaro, offering nearly 360 degrees of beautiful scenery including the quiet, rarely visited northern slopes. As the longest route on Kilimanjaro, the Northern Circuit allows for the best acclimatization time and the highest summit success rate, therefore this route is highly recommended.
The route approaches Mount Kilimanjaro from the west, beginning with a long drive from Moshi to Lemosho starting point Gate. From there, the first two days are spent trekking through the rainforest to Shira Ridge, before crossing the Shira Plateau. The route then heads north and circles clockwise from
Moir Hut to Buffalo Camp to School Hut, before summiting from the east.
Duration: 9 or 10 days
Difficulty: Medium
Scenery: Excellent
Traffic: Low
DAY 1:UPON ARRIVAL AT KILIMANJARO INTERNATIONAL AIRPORT
You will be met and transferred for overnight accommodation at Kilimanjaro Wonders Hotel 4 stars Dinner Included.
DAY 2:RECOVERY DAY AND MEET YOUR HEAD GUIDE
Your Guide will meet you for your briefing, gear check and arrange for you to hire any equipment you may need, Later Afternoon you will do a town tour in Moshi with your Guide. Overnight at Kilimanjaro Wonders Hotel 4 stars meals Breakfast & Dinner
DAY 3: LONDROSSI GATE – MTI MKUBWA CAMP: 4.8k /3mi | 3-4 hrs | Rainforest
Elevation: 2389m/7838ft to 2785m/9137ft
Altitude gained: 396m
Departing from Moshi a 45-minute drive will take you through welcoming mountainside villages to the Kilimanjaro National Park Gate. We will patiently wait for our permits to be issued while watching the hustle and bustle of operations as many crews prepare for the journey ahead Enjoy the beautiful rainforest scenery and windy trails while your guide tells you about the local flora and fauna and natural wildlife. At these lower elevations, the trail can be muddy and quite slippery. We highly recommend gaiters and trekking poles here.
DAY 4: MTI MKUBWA CAMP – SHIRA I CAMP: 7.9km/5mi | 4-6hrs | Moorland
Elevation: 2785m/9137ft to 3504m/11,496ft
Altitude gained: 719m
After a good nights sleep and a hearty breakfast, we emerge from the rain forest and continue on an ascending path, we leave the forest behind now, the trail climbs steadily with wide views to reach the rim of the Shira Plateau. Temperatures begin to drop.
DAY 5: SHIRA I CAMP –SHIRA II CAMP: 6.9km/4mi | 3-4hrs | Low Alpine
Elevation: 3504m/11,496ft to 3895m/12,779ft
Altitude gained: 391m
Our trek crosses the Shira one of the highest plateaus on Earth, from Shira I Camp to Shira II Camp. Nine-day climbs will stay the night at Shira II Camp joining climbers ascending from the Machame Route. At Shira II Camp it is worth the extra energy to go a bit higher up the plateau to enjoy the stunning view across the valley below and view the Western Breach of Kilimanjaro above. The plateau is exposed so be prepared for a cold night with temperatures getting below zero. Note: 8 Day Climbs continue East to Shira Plateau Ridge to Lava Tower (4,600 meters) and descend to Moir Camp (4,200 meters)
DAY 6: SHIRA II CAMP- LAVA TOWER – MOIR: 17.7km/11.1mi | 5-7hrs | High Alpine
Elevation: 3895m/12,779ft to 3986m/13,077ft
Altitude gained: 91m
Although you end the day around the same elevation as when you began, this day is very important for acclimatization. From Shira Plateau we continue east up a ridge, passing the junction towards the Kibo peak before we then continue, South East towards the Lava Tower, called the "Shark's Tooth" (elev. 4650m/15,250ft). Shortly after the tower, we come to a second junction, which leads to the Arrow Glacier. We then continue to descend to overnight at Barranco Camp.
DAY 7: MOIR CAMP – BUFFALO CAMP: 9.2km/5.7mi | 5-7hrs | High Alpine Zone
Elevation: 4155m/13,632ft to 4033m/13,232ft
Altitude loss: 122m
We begin with a moderately steep climb out of Moir Valley. If you wish, take a small detour here to climb the summit of Little Lent Hill at 4,375 meters before returning to the Northern Circuit trail. The route follows a series of inclines and declines, skirting around the northern slopes of Kibo to Buffalo Camp. Spectacular views of plains north of Kilimanjaro that stretches as far as the eye can see to the Kenyan / Tanzanian border. You will arrive at Buffalo Camp just after midday, where you will have lunch and have time to rest.
DAY 8: BUFFALO CAMP – RONGAI 3RD CAVE: 6.8km /4.3mi | 5-7hrs | Alpine Desert
Elevation: 4033m/13,232ft to 3936m/12,193ft
Altitude lost: 97m
Day six starts with a climb up the Buffalo Ridge and down into Pofu Camp where lunch is served. We continue East around the Northern slopes to the Rongai Third Cave. Today's climb is shorter than the day before and you should be feeling better acclimatized to the altitude at this point. You will arrive at the Third Cave just around mid-afternoon.
DAY 9: RONGAI 3RD CAVE – SCHOOL HUT:4.8km /3mi | 5-7hrs | Glacial Zone
Elevation: 3936m/12,913ft to 4717m/15,476ft
Altitude gained: 781m
A steady ascent and over the Saddle which sits between the peaks of Kibo and Mawenzi Peak. Continue Southwest to School Hut where you will be served an early dinner and the rest as you will begin just before midnight to start your summit attempt. Remember to prepare all your gear, including warm clothes, insulated water bottles, snacks, headlamp, and camera before going to bed.
DAY 10: SCHOOL HUT – SUMMIT: 5.9km /3.7mi | 6-8hrs | – MWEKA CAMP: 13km /8mi down | 5-6hrs | Glaciers, Snow Capped Summit
Elevation: 4717m/15,476ft to 5895m/19,341ft
Altitude gained: 1178m
Descent to 3106m/10,190ft
Altitude lost:2789m
Excitement is building as morning comes with an early start between midnight and 2 a.m. This is the most mentally and physically challenging portion of the trek.
We continue our way to the summit between the Rebmann and Ratzel glaciers trying to stay warm and focused on the amazing sense of accomplishment that lies ahead. With a switchback motion in a northwesterly direction and ascend through heavy scree towards Stella Point on the crater rim. You will be rewarded with the most magnificent sunrise during your short rest here. Faster hikers may view the sunrise from the summit. From here on your remaining 1 hour ascent to Uhuru Peak, you are likely to encounter snow all the way.
Congratulations, one step at a time you have now reached Uhuru Peak the highest point on Mount Kilimanjaro and the entire continent of Africa!
After photos, celebrations and maybe a few tears of joy we take a few moments to enjoy this incredible accomplishment. We begin our steep descent down to Mweka Camp, stopping at Barafu for lunch and a very brief rest. We strongly recommend gaiters and trekking poles for uncooperative loose gravel and volcano ash terrain. Well-deserved rest awaits you to enjoy your last evening on the mountain. Overnight Mweka Camp.
DAY 11: MWEKA CAMP – MWEKA GATE – MOSHI: 9.1km/6mi |3-4hrs | Rainforest
Elevation: 3106m/10,190ft to 1633m/5358ft
Altitude lost: 1473m
After breakfast and a heartfelt ceremony of appreciation and team bonding with your crew it's time to say goodbye. We continue the descent down to the Mweka Park Gate to receive your summit certificates. As the weather is drastically warmer, the terrain is wet, muddy and steep and we highly recommend Gaiters and trekking poles.
From the gate, a vehicle will meet you at Mweka gate and you will be transported back to the Office for Lunch ,drinks with your team and Gratitude celebration.
After lunch and Gratitude celebration we will take you to the hotel and Overnight at Kilimanjaro Wonders Hotel 4 stars meals Breakfast &Dinner
DAY 12: Fly Back home and this will be the end of your climb with us.
CERTIFIED ETHICAL CLIMBING:
We believe the tourism industry has an obligation and a great opportunity to protect the world's natural habitats, cultural heritage sites, and communities. We actively promote environmental sustainability and social responsibility.
As a Partner for Responsible Travel, we are proud members and active supporters of the
The Kilimanjaro Porters Assistance Project, (KPAP) an initiative of the International Mountain Explorers Connection, (IMEC). KPAP raises public awareness regarding the proper treatment of porters on Kilimanjaro and assists climbing companies with implementing procedures that ensure fair and ethical treatment of their porters.
Every climb is audited to ensure crewmembers are provided proper salaries, tips, food, equipment and sleeping conditions. We think it's pretty great and our clients do as well, check out our Tripadvisor profile to see what people are saying about us.
INCLUDED IN TREKKING PACKAGE:
Two nights at Kilimanjaro Wonders Hotel Half board basis and One night after the Climb.
Kilimanjaro trekking according to the itinerary.
Radio Emergency Calls.
Solar Charging Kit with USB ports.
Special porters for carry Clients daypacks.
Professional, English-speaking Wilderness First Responder, CPR & EAD certified Guide.
Proper Ration of Mountain crew (Cook & Porters).
Airport Transfers.
Best Sleeping Bag.
Sleeping Pillows.
Hiking Palls.
Best Thermarest Mattress.
Mountain duffel bags.
Drinking water and Full Board meals while Climbing.
All National Park & Camping Fees, Crew Permits and VAT.
Fair and Sustainable Salary Crew Wages.
Gate Transfers.
Emergency Packet Kit (1st Aid, Gamow Bag, Stretcher and 2 Oxygen Tanks).
Complimentary Oxygen Cylinder.
Gamow Bag.
Portable Private Toilet &Shower tent Porter.
Quality Imported Equipment Stands up Tents.
Coated Comfy Beds.
EXCLUDED FROM TREKKING PACKAGE:
Flights.
Visa fees.
Travel Insurance, Medical and Evacuation (Must Provide proof to us).
Medication.
Tips for porters and mountain crew (20% We Recommend).
Personal spending money for souvenirs etc.
Energy food &beverages, alcoholic and soft drinks.
Personal hire gear such as trekking poles, sleeping bags, etc.
Additional lodge nights if fly inn earlier or early decent from the mountain $ 150 per room BB.
TREKKING COSTS:
The Total days including the pre post accommodation is 12 days 11 nights
Northern Circuit 9 days 8 nights $ 4,800 USD per person (Each have his own room and own Tent)
CREW LIST IDEA FOR 2 CLIENT IS PER BELLOW:
1 Lead guide
2 Assistance guides
1 Emergency Packet Kit (First Aid, Gamow Bag, Stretcher and 2 Oxygen Tanks)
1 Cook
1 Waiter
1 Toilet Porter/Shower magic word (Pilot)
17 Regular porters
Prices quoted are subject to current Government Regulated Park Fees at the time of departure
Download a copy of the above Itinerary: 12 Days Luxury Kilimanjaro Climb via Northern Circuit Route
KNOW BEFORE YOU GO: