Trek2Kili Team
A TEAM COMMITTED TO THE INDUSTRY
MEET MSUYA "FOUNDER"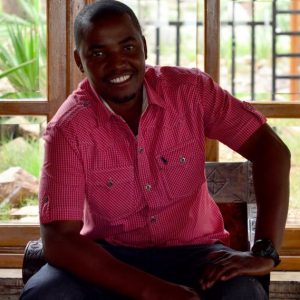 He invites you to discover the natural beauty of our country for the experience of a lifetime. From the vast plains of the Serengeti experiencing the Great Migration or cheering you to the Rooftop of Africa, the team at Trek2Kili welcomes you.
"Before graduating from The Royal Institute of Moshi and owning my own business, I too was once a porter. I believe success comes through hard work, excellent customer relations and honest business practices. I look forward to helping make your Tanzania holiday dreams come true."
Karibu Tanzania!
MEET NEHEMIA MSABILA "OFFICE MANAGER"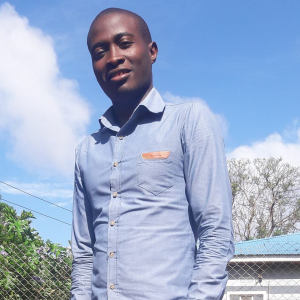 Trek2Kili is an active company and we have many treks and safaris for our international guests. We are so grateful to have Nehemia on our staff, he assists with all aspects of operations, crew assignment, accounting, dispatching our tours and more. Nehemia finds time to assist us when he is not at home with his lovely wife Marygetruda and two young children, one girl and one boy. Nehemia started his connection with Trek2Kili as a porter 3 years ago and then shifted to help in the office and has grown into a very important part of our office team. He grew up in the Tabora Region of Tanzania and went on to study economics which prepared him well for his position which includes accounting and budgeting. You may see him around the hotel helping to distribute rented kit, or at the park gates, helping with many different tasks!
ANDREW MAFIE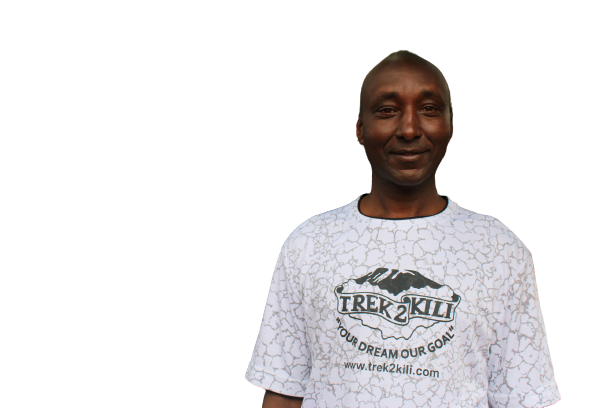 Meet our guide, Andrew! We are proud to have Andrew on our team. He has 10 years' experience and we value him for what he brings to our crew. Andrew is the proud dad of 4 children, two daughters, and twin boys. They are willing to share their time with their baba to be with our hikers from all around the world. Andrew specializes in all safety aspects of climbing Kilimanjaro and is very careful when escorting our guests, making sure they are not only having a great time in nature but also that it is in a safe way. Andrew stays active with reading, jogging, adventure, and enjoying the beauty of nature. Andrew is from Arumeru in the Arusha region. You are lucky to have Andrew on your team leading you up Kilimanjaro along with another head guide and many assistant guides as well.
PAUL MOSHA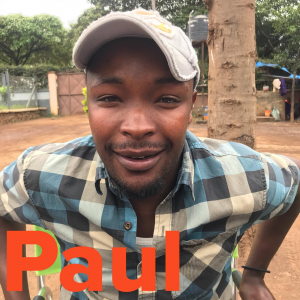 Our guide Paul is from the Moshi and Arusha regions of Tanzania. He has 3 years' guiding experience and many more before that as a porter. Paul is very happy to meet our clients from all around the world and sharing his knowledge with them. When he is not on the mountain, you can find him reading a lot of books and watching documentaries and movies. Paul is quite serious about safety and orderly standards on Kilimanjaro but also balances with having a really fun time. Paul is on your mountain team and is excited to meet you and lead your group up to the roof of Africa.
HUSSEIN MWARINDO

Meet Hussein Mwarindo our Mt Kilimanjaro Lead Guide
He lives with his wife and their 2 Beautiful daughters at foothills of Mt. Kilimanjaro where he raised his Family.
In his free time, he loves to do farming,watching movies with the girls and play Soccer.
He started working on the mountain 2005 to 2009 as a porter. After being a porter for a while he became a Guide in 2009, finally, after graduating from tourism collage, he started climbing the mountain as a guide.
Since 2009 he started working withTrek2kiliuntil now.
He summited Uhuru Peak more the 125 times since he started climb
He also owns his WFR certificate which is the highest medical aid training here in Tanzania.
He says the most important things to bring on the mountain are:
Rain gears
A good sleeping bag
Very good hiking boots
Positive mind
ISAYA MANDIA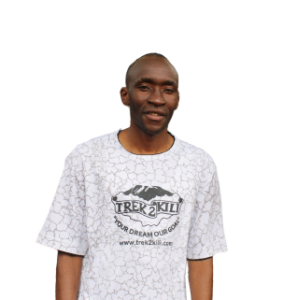 Meet Isaya Mandia a guide with over 3 years' of experience in guiding whereby he was a porter for 4 years before becoming a guide. We call him super cool because he is among the people who are very charming on our team.
During his time as a porter he has won the best porter of the year award and attended various wilderness training courses and first aid course. Isaya work hard to attain his role as a guide and always like to emphasize team work and take care of the nature also apart from the guide he has different professional like Managing, Accounting and Financing.
Isaya is spellbinding with beautiful of nature, reading novels, traveling, socialization and helping others.
FARIDA MUSA

Farida Musa a female mountain tour guide, she is still single
She has an experience of 4 years of working on Kilimanjaro where 2 years she worked as a porter and 2 years as a guide after attending the collage for mountain guide training.She has been on top of Kilimanjaro for 50 times.
The beauty of Kilimanjaro is not only by hiking but also it surrounded by forest a home of black and white colobus monkeys, blue monkeys, and bushbucks and duikers, The forests also host a rich variety of birdlife and there different beautiful flowers. She welcomes everyone from all around the world.
ABDULRAHMAN K. FUMO

He was born 1992 in Tanga region his parents passed away when he was a 9 years old by car accident.My grandparents work hard to make sure I get a better education unfortunately that didn't work to fulfill his dream.
But in 2010 few months after graduating his ordinary level he started to climb Mt. Kilimanjaro as a porterwhere he started to love this job, meeting with deferent people of different culture. A year after working as a porter he attended Kilimanjaro mountain guide training 2012 where he started to work as a guide after completion of that training.
He has experience of 10 years as a guide working for different companies until 2017 when he started to work with us Trek2kili Company, he has summited Mount Kilimanjaro more than 30 times. He has attended different courses including first aid course.
AMNAAY G. AMNAAY

Meet our guide Amnaay. He is a proud member of our team. He has an abundance of skills and knowledge of trekking which makes our crew outstanding. Amnaay love for nature is reflected though his passion for birds watching and geographical features interpretation. He is a leader and team player which guarantees nothing but a safe and successful hike. He is a football fanatic of the home soccer league and a good runner which keeps him fit. Amnaay is from mbulu in Manyara region. You will create memories that will last a life time with Amnaay on your team guiding you to the roof of Africa along with other guides from Trek2kili.
STEPHEN C. MWENERA

In our lead guides' pack Stephen is another character not to be skipped. His marital status still reads single but he has been claiming to be married to nature for he is an outdoors lover. His 8 years as a porter and a guide gives us nothing but joy and confidence that he embodies our philosophy of ethical and fun climbs. The man enjoys conversations about nature, spiritual awakens and he has plenty of humor, with him on the mountain consider your thirst for fun quenched. If you like music that is his addiction, he will play you all the jams on the trail. Books are his life too. With him all you have to expect on the mountain is a hike full of fun.
ELIA J. MSHANGA

He is a father of 3 children Evelyn,Alvin& Abraham.
He has been a Mountain guide for over 10 years.Elia says climbing is what I'm doing for living.I love my job among of things that makes me happy is to make a dream comes true for anyone who would like to reach the top of Mount Kilimanjaro.
He has been working with Trek2kili since year 2016 up to date.
He also went through some courses such as first Aid Responders and LNT.
He has made over 90 summit on top of Mount Kilimanjaro.
Apart from hiking he also like cycling, jogging and traveling.
A short message from him "climbing is about being positive (P.M.A) positive mental attitude".
He welcomes everyoneas he says Tanzania is a beautiful country KARIBU SANA.
FORTUNATUS A KIMARIO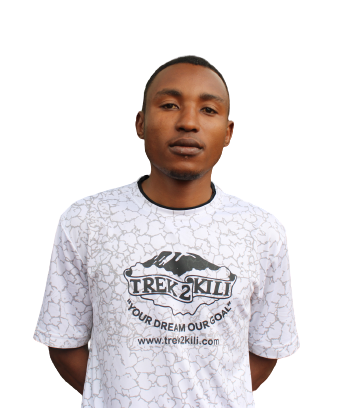 Meet our guide Fortunatus, He is single,self-motivated and quite he don't talk much unless he has something to say. He is 25 years old when he is free him likes reading books, trekking, doing adventures and exploring the nature. He joined tourism as a porterand worked as a porter for 3 years before becoming a guide. He has been working with Trek2kili for 5 years. Since joining this tourism industry he has summited to uhuru peak for more than 40 time which gives him enough experience in all seasons of the year at the mountain.
ERICK J. URIO

This is Erick J Urio, one of Trek2kili company guides. He is in relationship and a father of one kid who live with her grandmother when he is on mountain.
He started workingin tourism industry as a porter until he joined tour guide training and becoming a guide. He has attended first aid course for the safety of anyone on mountain.He has been working withTrek2kili for seven years since 2015 until now.
He has experience of not only hiking Mount Kilimanjaro but also Mount Meru. He has summited on Uhuru peak for more than 20 times. One thing he would like to say to anyone who would like to join Trek2kili familythere are many attractions apart from hiking Mount Kilimanjaro, whenever you reach here in Tanzania you will never regret. Birds watching,mammals and ecology of Mount Kilimanjaro and so many attractions which found on mountain Kilimanjaro going on Safari and Zanzibar.
ALEX L. KILEMBU

Alex's status….
To respect each other and to cooperate positive with my fellow in order to meet our life requirements in both sides…
He is married and God blessed him and his wife a family of five kids.He has attended different first aid courses and wilderness first responder(WFR).
He has experience ofhikingMount Kilimanjaro for over 15years. I have been working with Trek2kili since 2018 until now. I summited Kilimanjaro Mountain for more than 100 times.
He would like to say welcome to Tanzania, the unforgettable land. We extend an invitation to our local, regional and international travelers to come and discover, explore and experience the people, places and the attractions that authentic beauty Tanzania has to offer.
COLEMAN MALLYA

This is Coleman Paulo Mallyaa Mountain guide who live happily with his wife and their 3 children. In his free time he does farming, watching football (soccer).
He started working as a porter in 2007 as most of guides do to get experience of hiking mountain until 2018 when he joined collage for tour guide training and became a mountain tour guide. He has also attended first aid course as our guides do for the safety of clients in case of emergency.
Coleman have been working with us since 2009 as a porter and even when he upgraded to be a guide he still work with us.
His comment, to reach the top of Mount Kilimanjaro you don't have to rush walk slow (pole pole in Swahili) you might reach there.
OMARY MFINANGA

Omary a Mountain guide he was born and raised in Arusha region and he is still single. When he was 19 years old he made a decision to become a mountain guide and relocated from his small village to Arusha City to attend a profession school guide.
Omary began climbing the mountain at the age of 21 as a porter. During this time he gained experience in climbing Mount Kilimanjaro. At the age of 25, Omary began climbing Mount Kilimanjaro as a guide after being awarded a certificate of professional and completing 15 to 20 climbs per year for the last 5 years he started working with Trek2kili since 2018 as a guide.
LANGENI MRINDOKO

Meet Langeni Mrindoko a mountain tour guide, he is married and blessed to have one cute girl.
He has been working on Kilimanjaro for more than 14 years whereby he started as a porter for 4 years then on 2012 he became a Tour guide after attending a course of tour guide and he is a tour guide for 10 years now.
In those years of guiding our clients to the top of Kilimanjaro he has summited more than 50 times.Langeni have been working with our company since 2016 till now leading our new member of Trek2kili family to the top of Kilimanjaro.
One of the skills our guide must have is a first aid whereby Langeni has attended first aid more than once to make him updated. He would like advice anyone dreaming to hike Kilimanjaro that rehydrate as much as you can when you are on Kilimanjaro and to consider sanitation.
CONRADY KESSY

Conrady Kessy, a Kilimanjaro mountain guide. He is single and a father of one beautiful daughter Clarsia.
He has being doing Kilimanjaro for 13 years now since 2009 till now, he was a Porter for 3 years, and a guide for 10 years.
He has being working with Trek2kiliCompany for 4 years now since 2018.
As a guide he cannot remember how many times he has summited to the top of Kilimanjaro because he never counted but approximately more than 50 times but when he was a Porter he did 13 summit.
As experienced guide he has received lots of compliments from client's wishing to climb Kilimanjaro almost every climb since being a guide however some clients even promises to send their friends, relatives and other people to come and climb Kilimanjaro.
SANKE FEDRICK MWANGOSI

Sanke Mwangosi a mountain guide who loves cycling, he lives with wife and 2 kids patricia and prencella
He has worked on kilimanjaro for 12 years,he was a porter before being a guide as many other guides need first to get an experience of hiking Kilimanjaro Mountain before being a guide. He acquire first aid skill like wilderness first responder (WFR) the highest medical aid training.
Sanke have an experience of 10 years of guiding clients on Mountain Kilimanjaro,Mount Meru, and Mount Kenya but heusually hikes Mt. Kilimanjaro because most of our clients likes much Kilimanjaro.
He has summited on top of Mount Kilimanjaro 120 times since he started to climbKilimanjaro 14 times when he was a porter and 106 as a guide.Sanke have been working with us for more than 6 years.
Sanke says Hiking Mount Kilimanjaro is a matter of how you set your mind, everyone can make it to the top as they have gears and follow instructions to a guide.
AMINIEL PETER KALIUKI

Aminiel is a tour guide married and he has 2 children. He like playing football (soccer), jogging and doing farm activities with his lovely wife in his free time.
He has been a working on Kilimanjaro Mountain for 5 years, 3 years as a porter and 2 years as a guide. He has summited to uhuru peak for 32 times since he was a porter.
Aminiel is proud with his job, he love taking people from all over the world to the top of Mount kilimanjaro. He love sharing ideas with different people, jokes, singing and dancing on mountain.
EMMANUEL MATINDE ASSENO

Meet our mountain guide Emmanuel Matinde Asseno who has been on top of Kilimanjaro more than 170 times as he remember though he is about to give up on counting.
He is married and he has family of three children where he like watching football, movies and dancing with his family in his spare time.
He likes outdoor activities, been on Kilimanjaro is the most thing he likes guiding clients on top, share some fun stories what a wonderful job. That's the reason he go for short courses to update his skills.
Emmanuel have been working on Mount Kilimanjaro for twenty years, seven as a porter and thirteen as a guide and in those years he has been a part of our time for six years.
JOSEPH F. PALLANGYO

Joseph is happy married and a father of 2 kids Michelle and Millan. He lives in Arusha with his family. Joseph has 8 years guiding experience and 3 years before as a porter and he has been on top of Mt. Kilimanjaro many times till he can't remember anymore. He would like to ensure everyone who would like to hike Mount Kilimanjaro that will enjoy the hike as will see different zone with different flora and fauna as each zone has different character.He is happy with his job as being on mountain gives time to socialize chatting and less use of electronics devices.
HAJI MOHAMED KAHEMA

Meet our guide Haji Kahema who is married and has 4 children. In his spare time Haji likes farm activities with his family as it provides extra income for the family. He has an experience of 15 years working on Kilimanjaro, 13 years as a guide and 2 years as a porter. For the time he has been on Kili he has been on top for more than 200 times helping many clients from all over the world to reach the highest elevation in Africa. Haji loves Kilimanjaro especially its geographical formation and he would like to share the knowledge.
YUNIS TUMAINIELI MAUKI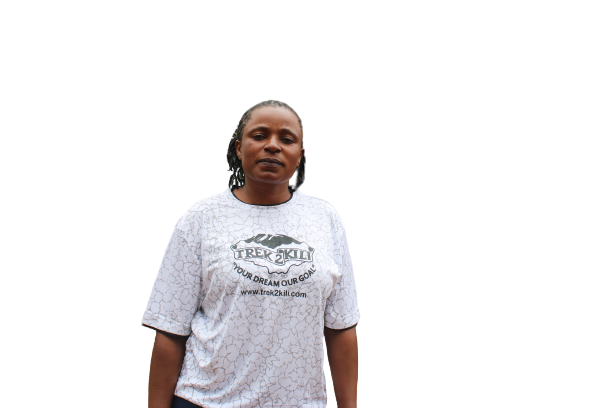 Meet our female guide Yunis Tumainieli Mauki, a mother of one beautiful daughter Glory. Yunis started working on Mount Kilimanjaro as a porter for 7 years before joining tour training where she became a mountain guide for 3 years now. She has been on top many time since she was a porter till she can't remember anymore. In her spare time she mostly like to do farm activities.
Yunis love this job as she has dedicated the job to her lovely daughter. She is a little bit shy and she doesn't talk much but she believe in safety of client first She believes in hardworking and self-reliance that's why she would like to encourage anyone who would like to be on top of Kilimanjaro to believe in themselves and they make it to the top.
JOSEPHAT PAUL

Meet Josephat Paul a Safari tour guide, a father of two beautiful daughters Noela and Angel. He has an experience of taking people from all around the world to different attractive places here in Tanzania like Serengeti, Ngorongoro, Tarangire and Manyara for more than 10 years.
Josephat have attended different courses of first aid and safari tour guide and few weeks ago have attended short course training offered by Mweka Wildlife collage.
He likes bird watching, if you a planning to go for safari Josephat says one thing you don't have to forget is binocular for bird watching and if you have questions just ask him once you meet.
CYPRIAN G. MALLYA

He is a tour safari guide he lives with a happy family of lovely wife Valerie and 4 children, whereby 2 are girls and 2 are boys. When he is free he like to spend time with his family because most of the time he is on Safari working. Jogging is his favorite thing he does and watching movies with his family.
Being a guide was a dream he had since he was a child he likes wildlife going for adventure, after finishing high school he joined tour guide collage to become a professional tour where by his dream became true.
Cyprian attended different short courses of first aid and Safari leaning how to take care of clients and about wildlife. He has experience of 16 years since he has started this job.
He love this job because it is his profession and he never get tired of it, every day of Safari is a new day and is different. What you have seen yesterday is not the same with what you see today. Bush life is amazing and it is a good experience.